Castle Ashby
Client – Articole Studios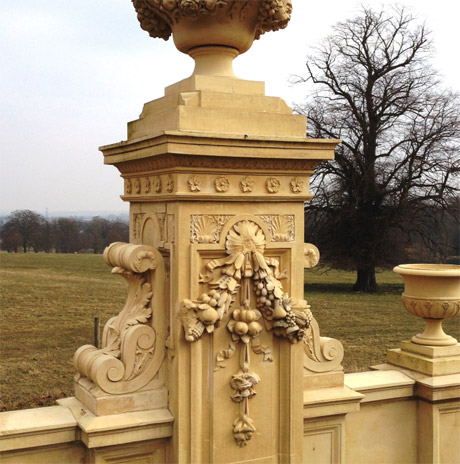 2009 to date
In 2009 Steve Cole of Articole Studios began working to replace Terracotta architectural garden ornaments at the Castle Ashby Estate in Northamptonshire. The original Terracotta was manufactured and installed by J.M.Blashfield between 1867 and 1868 and had finally succumbed to frost damage and the ravages of time.
The challenge was to catalogue, dismantle, mould and recast each section. Feathercast explored the best material and method of manufacture and Steve began planning each phase of the rebuild. A certified suitable material solution was developed with Jesmonite.
Using moulds supplied by Articole Studios and with Steve's regular consultation we have manufactured several phases and have a programme to complete the full replacement of the terracotta on site within three more years.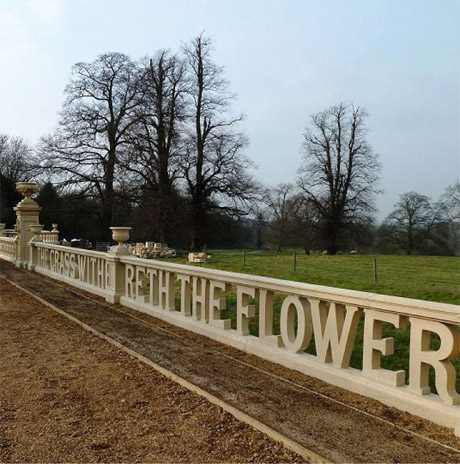 "We were asked by an existing client – Castle Ashby in 2009 if we could recast all the decorative stoneware in the grounds of the house. Baserails, balusters, handrails, pedestals and urns etc. were originally made in 1860 by a Northampton company who produced everything in terracotta. We were tasked to come up with a material and a method to cast out of our moulds. We produced the first phase ourselves using Jesmonite AC830.
When we came to the next phase we worked closely with Feathercast to produce many of the elements to reduce the casting burden on our own workshop team.
This worked very well and Articole Studios have forged a very close relationship with the Feathercast team who now produce a lot of our work using the moulds that we create. Their attention to detail and high quality finishing of all of our work has eased the burden on our own core business".
Steve Cole
P&O Cruise liner Britannia
Client – Tom Tempest Radford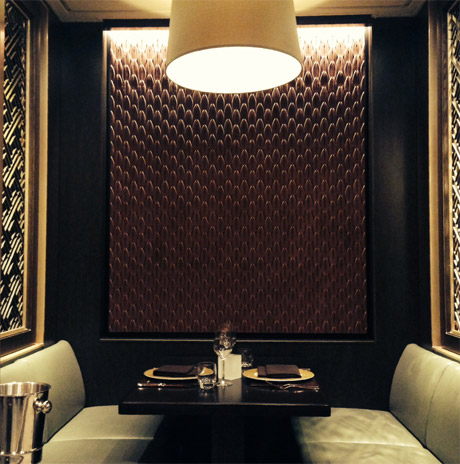 2014
Tom Tempest Radford was tasked with sourcing the artworks for the P&O Cruise liner Britannia. For the cabins he selected a ceramic triptych designed by Regina Heinz. However, weight and manufacturing capacity in the bespoke, ceramic industry became an issue. Tom spent many months searching for a solution and finally found Feathercast and Jesmonite.
We perfected the moulding, colouring and finishing techniques and product weights fell by over 75%. The detail and beauty of the artworks was maintained and almost 6,000 units were supplied and fitted to the cabins.
Tom then went on to order large bass relief Jesmonite panels which we designed and manufactured for the fine dining Indian inspired Sindhu Restaurant on board, and crisp, modern 'paperboats' to adorn the vibrant buffet restaurant 'Horizon'.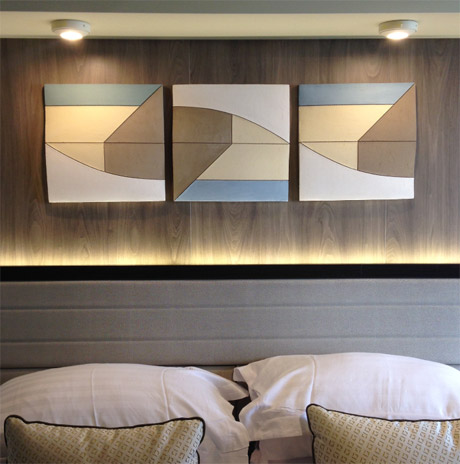 "Emma & Feathercast were very reliable from a technical and aesthetic standpoint and a joy to work with. The Jesmonite solution was exactly what we needed given strict fire rating and weight restrictions.
The end result was a wonderful sense of texture and humanity in the artwork for the cabins and now this has been achieved I am sure this will be a game changer for both the cruise industry and hotel industry."
Tom Tempest Radford